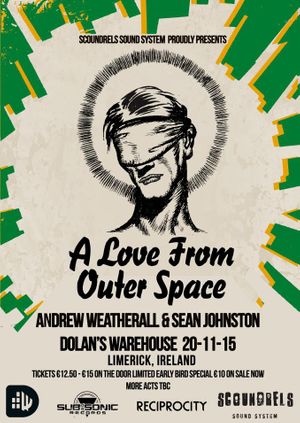 Scoundrels Sound System Proudly Presents A Love From Outer Space
20th Nov 2015 8pm - 1:30am
Add to Calendar
Event Details
A LOVE FROM OUTER SPACE (ALFOS) is the brainchild of Andrew Weatherall and Sean Johnston, born lovingly from their loins in 2010. The first installment of this stellar trip took place in 2010 in a North London basement and since has grown legs, featuring in Wales, Scotland and
Europe's finest festivals, and now, for the first time, ALFOS is coming to the Republic of Ireland. As described by Andrew, ALFOS is 'an oasis of slowness in a world of increasing velocity'. A mood steeped in sleazy, low slung techno dub and disco, Balearic beats and chuggy acid
house, ALFOS promises to be a night of shuffles and head nods in the superb surroundings of Dolan's Warehouse, Limerick.

Andrew Weatherall & Sean Johnston
Dolan's Warehouse
Friday November 20th 2015
Limerick, Ireland
More Acts TBC

TICKETS €12.50 - €15 on the door

Very LIMITED Early Bird Special €10 on sale now